Under normal circumstances, the design phase of a K12 auditorium addition would include "field trips" to comparable district auditoriums for the project team, architects, engineers, consultants, district administrators, and community stakeholders to inform the final design decisions. However, circumstances today are anything but normal, and, to avoid delays in the schedule, our K12 team has had to get creative with how it provides owners with the data to make informed decisions.
The Imlay City Schools project team in Michigan, including Senior Project Engineer Bradley Kolcz, Senior Project Manager Daryl Dombrow, and Senior Project Manager Doug Madden, found themselves in this situation and were able to use StructionSite, an application often used to document construction progress, with to take 360-degree photos of three different school auditoriums and then virtually "tour" the auditoriums with the client using Microsoft Teams.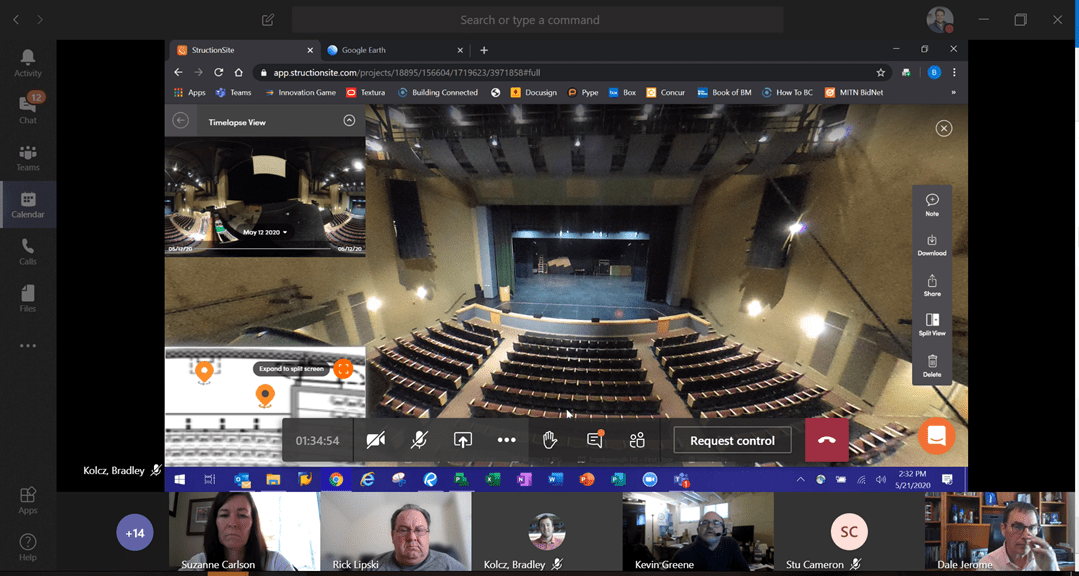 Over the course of a week, Bradley traveled to three different mid-Michigan auditoriums — Freeland, Frankenmuth, and Richmond — to document the facilities with 360-degree photos for presentation at the virtual design meeting. During that meeting, the full team was able to make important decisions on key components of the auditorium such as the orchestra pit, coral, balcony, and other theatrical elements.
The design team and owner gave glowing feedback to the project team, who went above and beyond to ensure they had the information needed to make the best decisions, specifically thanking the team for its flexibility and forward thinking during the pandemic.