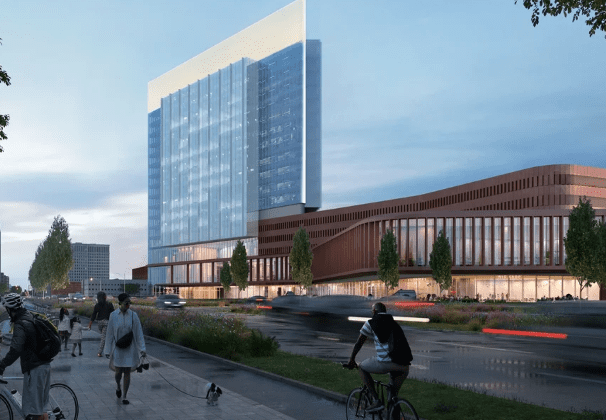 Project Description
Henry Ford Health's vision for their "Destination: Grand" project is a major expansion of Henry Ford Hospital including a new state-of-the-art facility and patient tower across the street from the existing hospital. The project will advance 21st-century medicine, revitalize a critical community asset, and promote health equity. The new hospital facility will consist of a five-floor podium and a 15-story tower, with approximately 360 beds moving from the current campus. The tower will house team member offices, acute care, intensive care beds, and a helicopter pad, while the podium will accommodate operating rooms, the emergency department, laboratories, and a bridge connecting to the existing Cancer Center. The bridge will provide better functionality in connecting the broader hospital community and benefits staff, patients, and visitors alike.
Construction will be led by the "BTD" team, formed by Barton Malow, Turner, and Dixon Construction Services, with a minimum of 34% of direct contracts allocated to Minority and Women-owned Businesses, divided between Detroit-based and non-Detroit-based enterprises. The project aims to provide job opportunities for local residents, promoting internships, paid work experiences,and union apprenticeships.
Procurement: Understanding Process

Search for Bidders – Project teams review internet databases, owner recommendations and community partner lists for vendors who match upcoming bid packages.
Outreach Event – Vendors who attend the Outreach Event have the opportunity to meet the Barton Malow team, learn more about the project and connect with potential partners.
Register + Pre-qualify – All vendors interested in bidding on the project must both Register and Pre-qualify. Vendors must register for each project they are interested in bidding. Vendors pre-qualify their business only once – this step is not required for every project.
Invitation to Bid – Registered and pre-qualified vendors will receive an invitation to bid on the project. This will be sent via email using the Barton Malow online bidding tool, BuildingConnected.
Pre-bid Meeting – Invited bidders have the opportunity to attend a pre-bid meeting where they may ask further questions about the project, working with Barton Malow and the scope of work they have been invited to bid on.
Bid Day – This is the day all bidders submit their bids for review. Bids must be submitted according to the process and procedures outlined in the materials received with the invitation to bid.
Bid Evaluation – Bids received will be reviewed based on the project's evaluation criteria. Bids are evaluated by the community engagement team, construction project team, the owner/client and a neutral compliance party (as applicable).
Contractors: Get Connected
Interested in getting connected to Henry Ford Health | Destination: Grand bid opportunities? In order to do so, you must register for the project by first completing the Project Registration Form below. This form will get you added to our interested bidders list so that you can identify potential partners and learn more about the services and products they provide. You will also be added to our contact list, and will receive regular updates on the project, bid package release dates, and outreach event information. Be sure to check your Junk and Spam accounts regularly to make sure you don't miss out!
Events
Recent Outreach Events
Categories:
STEEL
HVAC
PLUMBING
ELECTRICAL
EQUIPMENT
ENCLOSURE
DEMOLITION
EARLY SITE WORK
FIRE SUPPRESSION
Prequalification efforts will be administered through the Turner team. For more information on prequalifying, please click here:https://www.turnerconstruction.com/subcontractors
Registered Contractors
To view a complete list of registered contractors: Click Here