Barton Malow is featuring a few of our female team members and their stories this week in honor of the National Association of Women in Construction's annual Women in Construction Week.
This week is Women in Construction (WIC) Week and, in celebration, we're sharing a profile of Director of Lean Jill Katic. WIC Week is an annual event put on by the National Association of Women in Construction (NAWIC) to highlight women as a visible component of the construction industry. Throughout the week we'll be sharing more features of our incredible female Barton Malow team members here on our website and on social media. We invite you to also participate by recognizing the women in construction who inspire you, and if you're posting on social media make sure to use #WICWeek2022.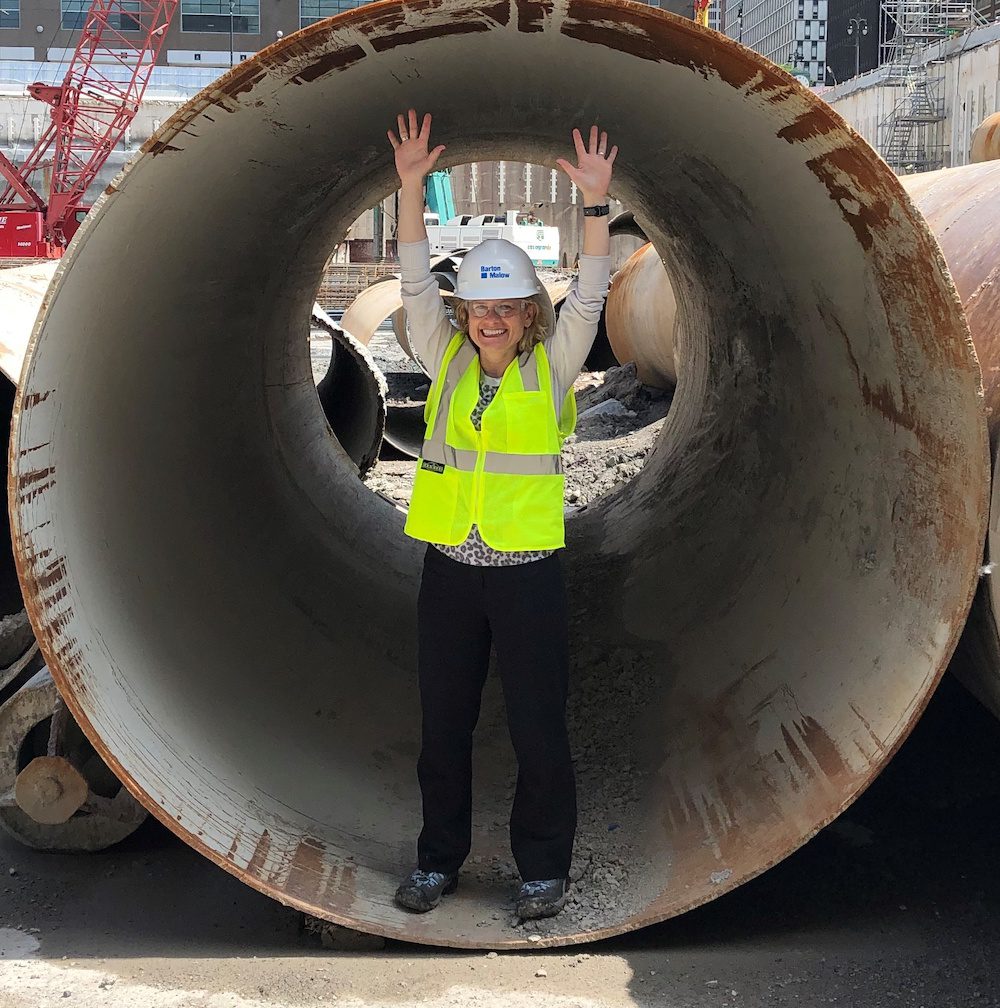 Name: Jill Katic
Current Role: Director of Lean
Current Location: Southfield, Michigan
Years in the Industry: 3
What led you to a career in the construction industry?
I've always been interested in the construction industry, specifically engineering, construction means and methods, and design. When I was in kindergarten, my family built a new home, one of the first in a new development. For the next several years, taking evening walks with my parents and wandering through homes under construction became a pastime.
Later, I studied Mechanical Engineering at Michigan State University while my boyfriend, and eventual husband, studied Civil Engineering. We would compare and discuss homework assignments between these two disciplines. I always found his homework interesting. These conversations continued after we were married, as he started a career in the construction industry and I went into the automotive industry. So, I vicariously worked in the construction industry long before I actually did. When the opportunity to join Barton Malow arose, it seemed a natural career progression and a great way to change industries.
What are some of the biggest challenges of being a female in construction?
I've always been in male-dominated environments and industries. When I was a Mechanical Engineering student, less than 15% of BSME degrees were awarded to women. I spent a semester studying Maschinenbau (Mechanical Engineering) in Germany, where the percentage of women dropped to less than 5%.
Early in my career, at a global Fortune 100 automotive company, I worked in an engineering R+D lab and a manufacturing plant, where I was the only woman and the only person under 30. Later in this career, I worked in strategy and product development and found myself as the only woman at the table among the "old boys club."
I believe the challenges of working in construction are like working in other male-dominated fields. And, for me, these are not unique to my gender, because I know nothing different. Rather, these are just challenges we have working with humans – challenges to connect, belong, and be heard.
Being a short female, the biggest challenge I've found, until relatively recently, is to find appropriately sized "work" clothes and safety glasses. I can't tell you how many times I've worn a shop coat that fits like a floor-length dress with thick cuffs at my wrists because I had to roll the sleeves five times! Clothing challenges are not a concern in my current work environment, and I'm happy work-wear manufacturers have diversified their line-up. I can now don my perfectly proportioned Carhartt jacket and overalls and kid-sized safety glasses to work outside on the weekends.
What do you love most about your career?
I like that Barton Malow provides the opportunity to engage in business areas that interest them outside of their core role. I'm currently part of the Lean Evolution team. In my role as Director of Lean, I enjoy sharing how developing and adopting a Lean culture can benefit team members' work and the business.
In addition to my day-to-day role, I co-lead the Sustainability Community, which comprises a group of passionate and dedicated team members interested in learning about and creating an earth-friendly construction industry.
I am also involved with the small Product Development team, where I can support future products for the industry by leveraging my experience in product development.
All three of these areas are opportunities to advance and transform the construction industry, which is exciting.
What advice would you give women starting out in the industry?
I would give the same advice to young women and men starting their careers in the industry.
Be respectful; take the opportunity to learn from EVERYONE.
Be confident, know what you know, and try to know what you don't know.
Be wary of the Dunning-Kruger effect and imposter syndrome in yourself and others. 
I would also share advice my dad always passed on, "Always feel adequate," which was his way of saying you are enough. And my personal favorite is, "If you don't want someone to get your goat, don't let them know where it's tied up."
The unique advice I have for women is to be their authentic selves and not apologize for who or what they are.
What accomplishment are you most proud of?
I'm a big believer in working collaboratively, learning from one another, and continuously improving.
I was delighted with the outcome of the Barton Malow ConstructCon event in 2021. This event hosted over 400 individuals from 359 subcontractor and vendor businesses over three days and 17 sessions in a virtual environment. The event provided an opportunity to strengthen relationships, help subcontractors and vendors understand the best ways to partner with Barton Malow, and increase diverse supplier participation. Participants had overwhelmingly positive feedback after the event. ConstructCon was a great example of the power of collaboration amongst a variety of individuals and teams at Barton Malow.