Detroit news/talk radio station WJR-AM and the Detroit Economic Club (DEC) have named Barton Malow Company Preconstruction Manager Taylor Bagby on their list of 2022's Rising Stars, a program that annually recognizes 10 emerging leaders in the metro Detroit area. As part of this recognition, on-air host Guy Gordon interviewed Taylor about the company, her role, and the qualities that make Taylor an up-and-comer in the construction industry.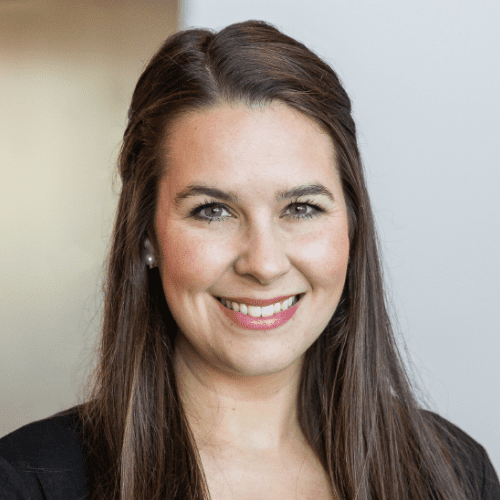 "I'm honored and thrilled to have received this recognition and grateful for the opportunity to share my passion for this enterprise and the work we do with the listeners of WJR-AM," Taylor said. "Barton Malow has provided a place for me to flourish professionally and personally. I'm thankful for the support I've received in my career and look forward to mentoring other rising stars within the Barton Malow Family of Companies."
Taylor joined Barton Malow as a Project Engineer Intern in 2009 and has served in her current role for two years. Beyond her work and leadership within the Preconstruction department, Taylor is heavily involved in several key Barton Malow initiatives. She was among the first cohort of graduates from the company's Lean/IPD University. This program, consisting of 40 hours of knowledge-based education and hands-on simulations, makes each graduate a champion of Lean concepts in their respective projects as a means of streamlining efficiency, safety, and collaboration. She's also a member of the Sustainability Community, which is helping establish the enterprise's environmental, social, and governance initiatives. Finally, she's part of the New Hire Ambassador Program, which aims to help new team members feel comfortable sooner and achieve a sense of acceptance and belonging.
Taylor is also an active member of the community. She's been a general member of DEC's Young Leaders since 2014 and has served as a volunteer and team captain for DEC's Career Readiness Academy. She has volunteered for various Habitat for Humanity locations since 2011. She has also been a team captain for the American Heart Association's Heart Walk and a team coach for Girls on the Run International.
Read more information and listen to an interview with Taylor on WJR's "The Guy Gordon Show" here.