University of Virginia's McCormick Road Houses, a collection of hallway-style complexes built in the 1950s, are home to over 1,400 first-year students. To give students refreshed residences, UVA selected Barton Malow as the construction manager for this multi-stage renovation project to update all six four-story dorm buildings, which total 300,000 SF across a 9.5-acre site.
The initial utility phase brought new services to each building and completed masonry repairs. The additional two phases lasted just over a year each and ensured students' comfort by adding elevators, renovating bathrooms, installing air conditioning, expanding The Castle dining facility, and updating building systems and finishes. Additionally, several ground-floor rooms were converted into study lounges and common areas to foster a sense of community.
This vast project spanned three summers, ultimately giving all McCormick Road residents an incredible space to work, learn, and play. With strictly enforced phased turnover, we utilized our local self-perform team for interiors to ensure schedule certainty.
Phased to Fit: Schedules + Systems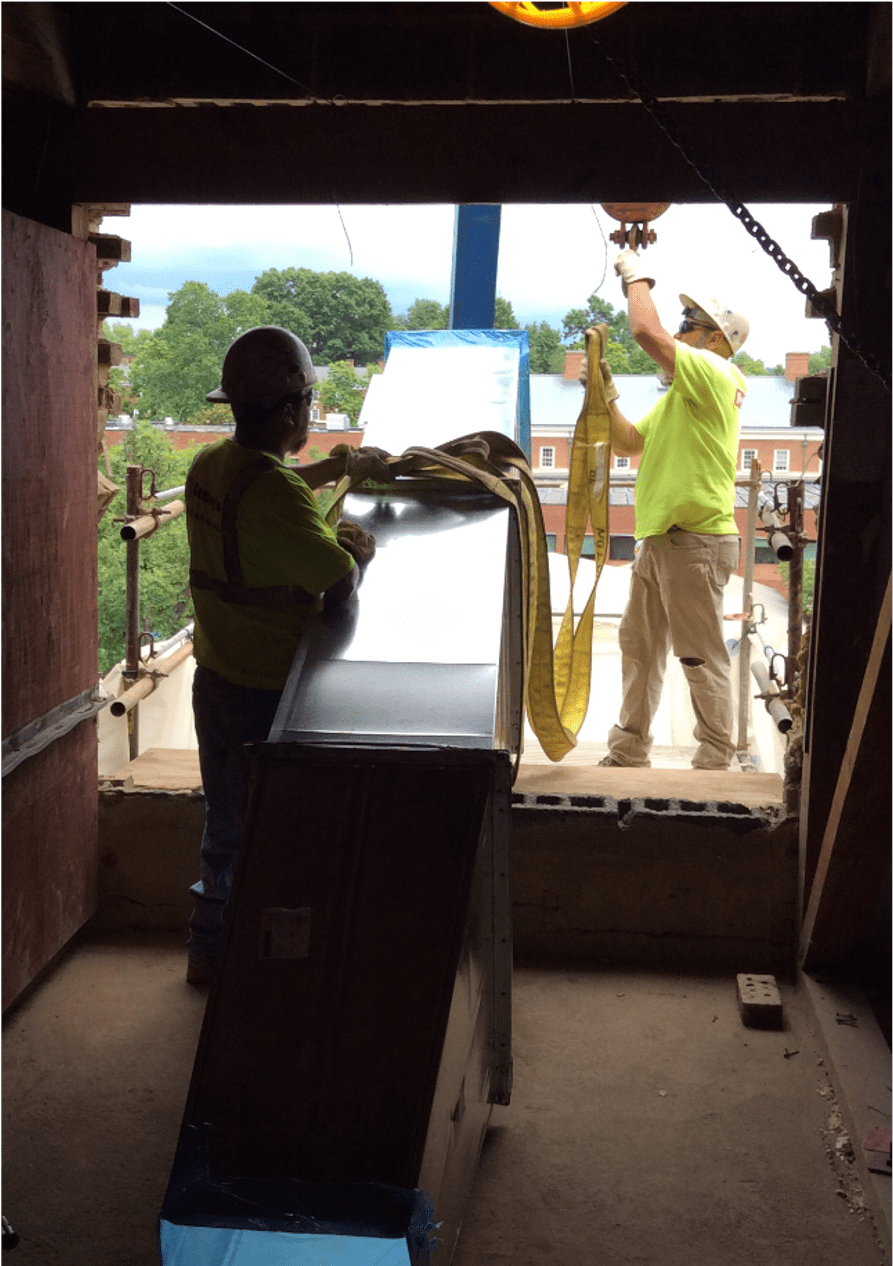 This project presented unique technical challenges, as the original structures were not designed to receive modern-day MEP systems. Extensive time was spent in preconstruction working with the design team and our design-assist MEP subcontractors to develop solutions for major pathways and repetitive conditions typical of residence halls. The team laser scanned the timber attic framing to model structural changes needed to create installation and maintenance space for the new equipment. This modeling was also critical to coordinate all the piping and ductwork, which was prefabricated off-site. All of the material and equipment was rigged into the attic through a six-foot square opening in the exterior brick wall.
The preparatory work for this equipment and installation of all the piping was completed while the university dorm building was occupied so the team could hit the ground running with the renovation once the students moved out. This planning resulted in solutions that minimized the loss of square footage for chases, shafts, and equipment rooms, maximizing ceiling heights and streamlining the project schedule.
To see more of our higher education construction work, from university dorm renovations to new research facilities, click here.