The Detroit-based minority business enterprise is only about a decade old but continues to grow thanks in part to its core values.
A saw buzzes in the background. Hammering can be heard. And then Rodney Prater, President of Prater Commercial Carpentry, comes on the line.
"Sorry about the background noise," he says. "I'm on site."
And this didn't happen to be coincidental to our pre-arranged call with Rodney to learn more about his decade-old firm specializing in precon, interiors, drywall and framing, and acoustic ceilings – it's something that he does quite regularly.
"When my name goes on that dotted line, it's my responsibility to make sure that everything we commit to happens," he says. "It's my word, it's integrity."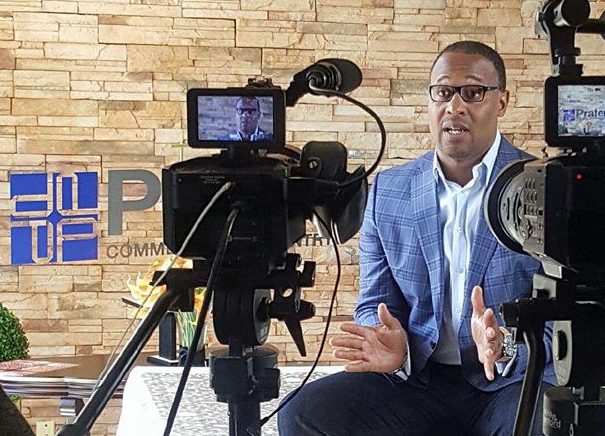 Rodney happens to be a carpenter by trade, so it's fitting that you'd find him on the jobsite. He began his career in construction as an apprentice and held a stint as an estimator and project manager before becoming a vice president of an area contractor. He spent 20 years in this VP role and then started Prater Commercial Carpentry.
"I grew up playing competitive sports," he says. "You're always looking for the next challenge. Having the chance to perform at the level of apprentice and work myself all the way to the vice presidency of these companies. The natural progression is 'what's the next challenge?'"
With a good name, reputation, and a laundry list of contacts he had amassed in his career to that point, Rodney started Prater Commercial Carpentry. And one of his early goals with his new firm was to work as a subcontractor with Barton Malow. It took a few years for Rodney to bring his firm's standing up to Barton Malow's expectations for its approved vendors, but since having done so, the relationship has been fruitful for both parties.
"I had a longstanding and great relationship with Barton Malow and understood the culture it has as a company," he says. "I think our company mirrors those core values and approach to business. Barton Malow operates with great integrity, and it is an honest company that has a commitment to do the right thing. We felt like it's who we are as a company. My experience and exposure to Barton Malow made it not just a company I wanted to do business with, but a company I wanted to emulate."
Prater's first job with Barton Malow was a small one of less than $10,000 – but it turned out to be a gateway project that's led to steady work with it since.
"We treated that first job like it was $9 million," he says. "Whether the project is $100,000 or $100 million, that $100,000 is equally important. You can't place a higher relevancy on a project because of the size of it. It's the same manner of execution."
It's a philosophy that has rung true for Rodney and how he's run his business. And it's part of the reason behind Prater's growth since its founding. Today, Rodney has goals of gradually and sustainably increasing revenue by 15-20% annually. He also wants to continue to develop a strong sense of team culture, both in project management and on-site teams so that they can continue to raise the bar on the level of service that they're able to provide to partners. Long-term, he wants Prater Commercial Carpentry to become the go-to carpenter in southeast Michigan.
'When you get Prater Commercial Carpentry involved, we are putting every ounce of energy, every ounce of our pride, and our passion into what we do," Rodney says. "We have a little chip on our shoulder because as a young company, we are the underdog. Say what you're going to do and then do what you committed to. That's what integrity is all about. That's who we are at Prater."