As part of the annual Women in Construction week, we're inviting you to meet 10 members of the Dearborn, Michigan, project.
It's a central campus building for one of the world's most well-known companies, featuring 25,000 total tons of steel, soaring high ceilings, and all-season outdoor spaces in Michigan. All of this is enough to set a construction project apart, but perhaps one of the most unique things about this jobsite isn't what is being built but who is building it.
On a cold February day, 10 members of the project team gathered, representing positions ranging from project engineer to ironworker, scheduling manager to cost analyst, all of whom were women. With only 10% of the construction workforce nationwide being women, it's not always common for a group like this to be assembled and working on one project. As part of the annual Women in Construction week put on by the National Association of Women in Construction (NAWIC), women from jobsites across the country and across the Barton Malow Family of Companies are sharing their experiences.
Today we invite you to meet some of the women bringing Ford Motor Company's central campus building project to life:
Kelly Roulier, Project Manager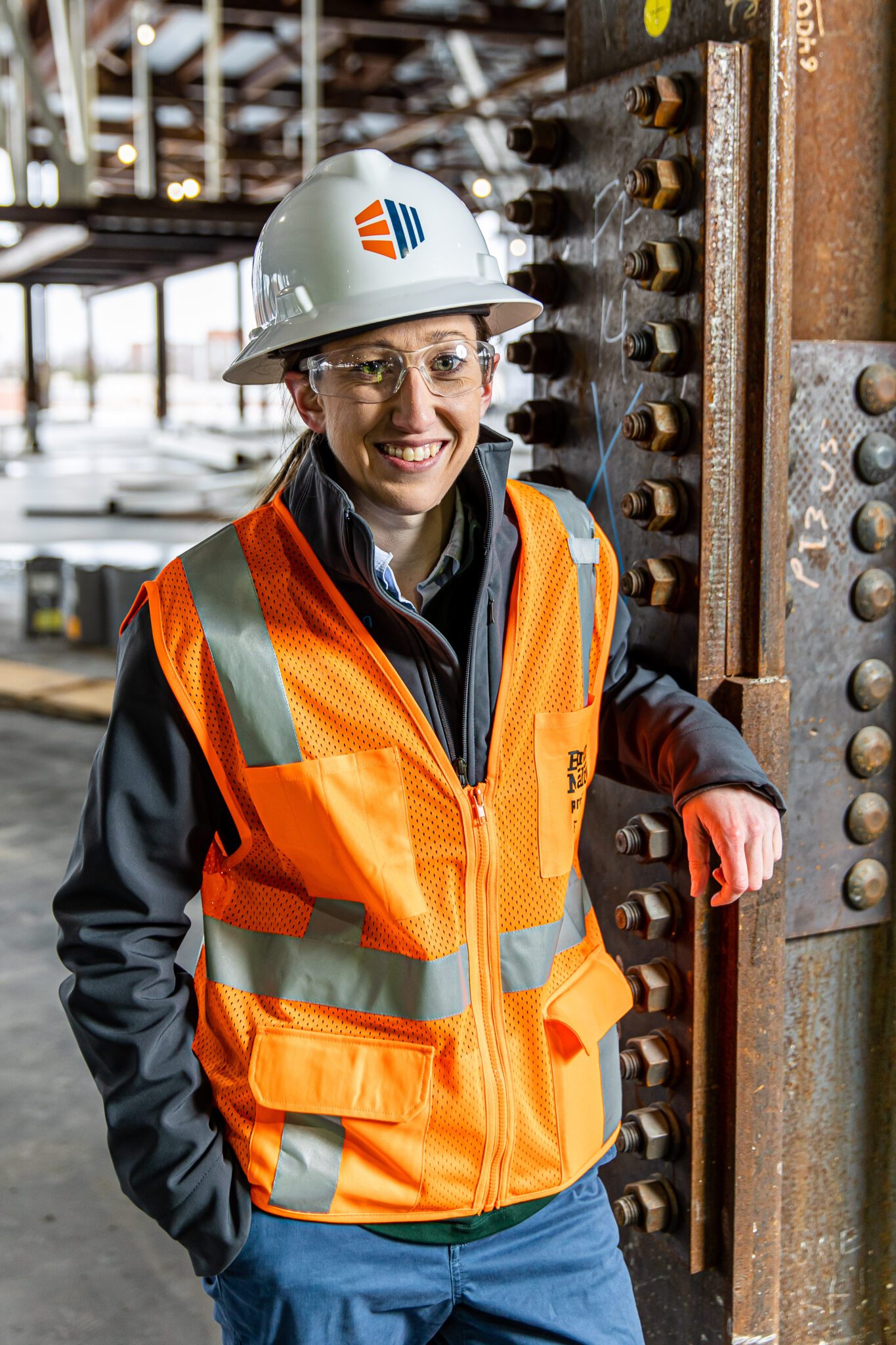 After graduating from Michigan State University with a bachelor's in civil engineering, Kelly joined Barton Malow as a Project Engineer before moving into a role as a Project Manager.
"I had a fascination with understanding how things go together, which translated into studying engineering in college," she says. "When presented with the opportunity to be out in the field and have the satisfaction of tangible results at the end of the day, the choice to go into construction was clear."
And the tangible results of her work have not only been clear, but impactful to the communities she's worked in, covering projects across the healthcare, education, and commercial markets. It's that impact she highlights as what she loves most about her work.
"It can be easy to take for granted in the day-to-day grind, but it is truly a special thing to be able to make positive improvements through the projects we build," she says.
With 12 years of experience, she's been a part of many projects and says she's been fortunate to be on quite a few projects with multiple women on site.
"It can be intimidating, especially early on in your career, to always be the only woman in the room, which is why the opportunity to learn from women working in all types of roles on the jobsite throughout my career has been invaluable," she says. "Women can bring different perspectives and approaches to the job, and having mentors on site to support, encourage, and advocate for the next generation of women in construction makes us all better."
When asked what advice she has for women thinking about getting into the construction industry, she answered, "Go for it. Construction is a team sport; if you're willing to put in the work and are always striving to learn, you will find a place regardless of gender."
Solei Thomas, Project Engineer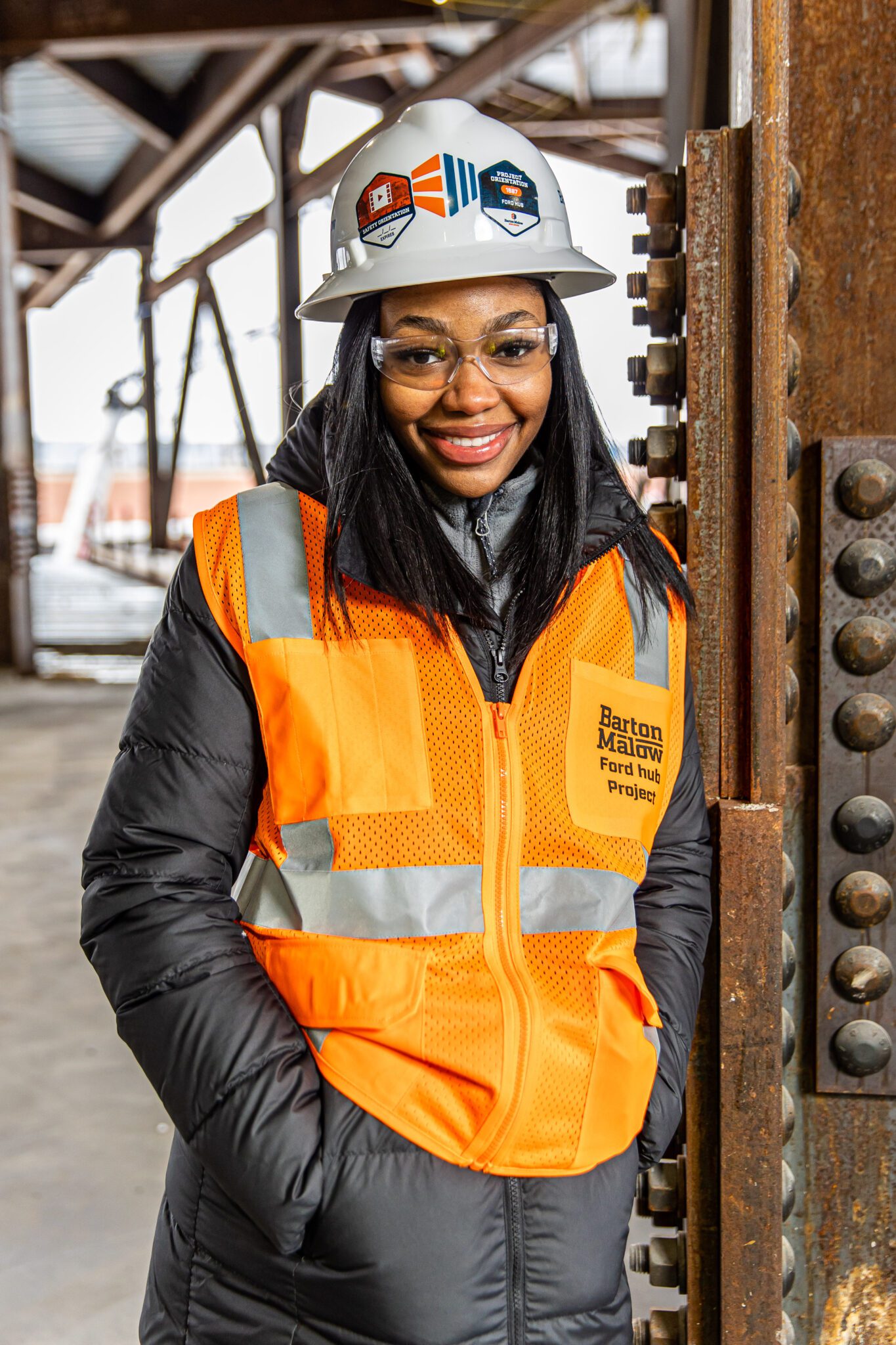 Growing up around her dad and uncles who worked in the construction industry, Solei learned early on that construction had many opportunities available to her.
"I ended up doing an internship while I was at school, and my mentor really motivated me to get in the industry," she says. "She really emphasized that the construction industry needs more females. I never looked back after that."
No stranger to hard work, after finishing her degree at Clemson University and competing as an NCAA Division 1 student-athlete on the Tigers' Volleyball team, Solei hit the ground running at Barton Malow after starting just a few months ago.
"Every day is interesting, and things are constantly changing," she says. "I learn something new every single day and have the opportunity to build communities and bring visions to reality."
When asked what it has been like to work on a project with multiple women on site, she says, "The words that come to mind are reassuring and comforting! I have someone to look up to who I can ask questions that I may not be comfortable asking my male peer."
As for advice she has for women thinking about getting into the construction industry, Solei answered, "Be confident and ambitious; have an open and curious mind and don't be afraid to ask questions."
Jennifer DeMars, Project Controls Manager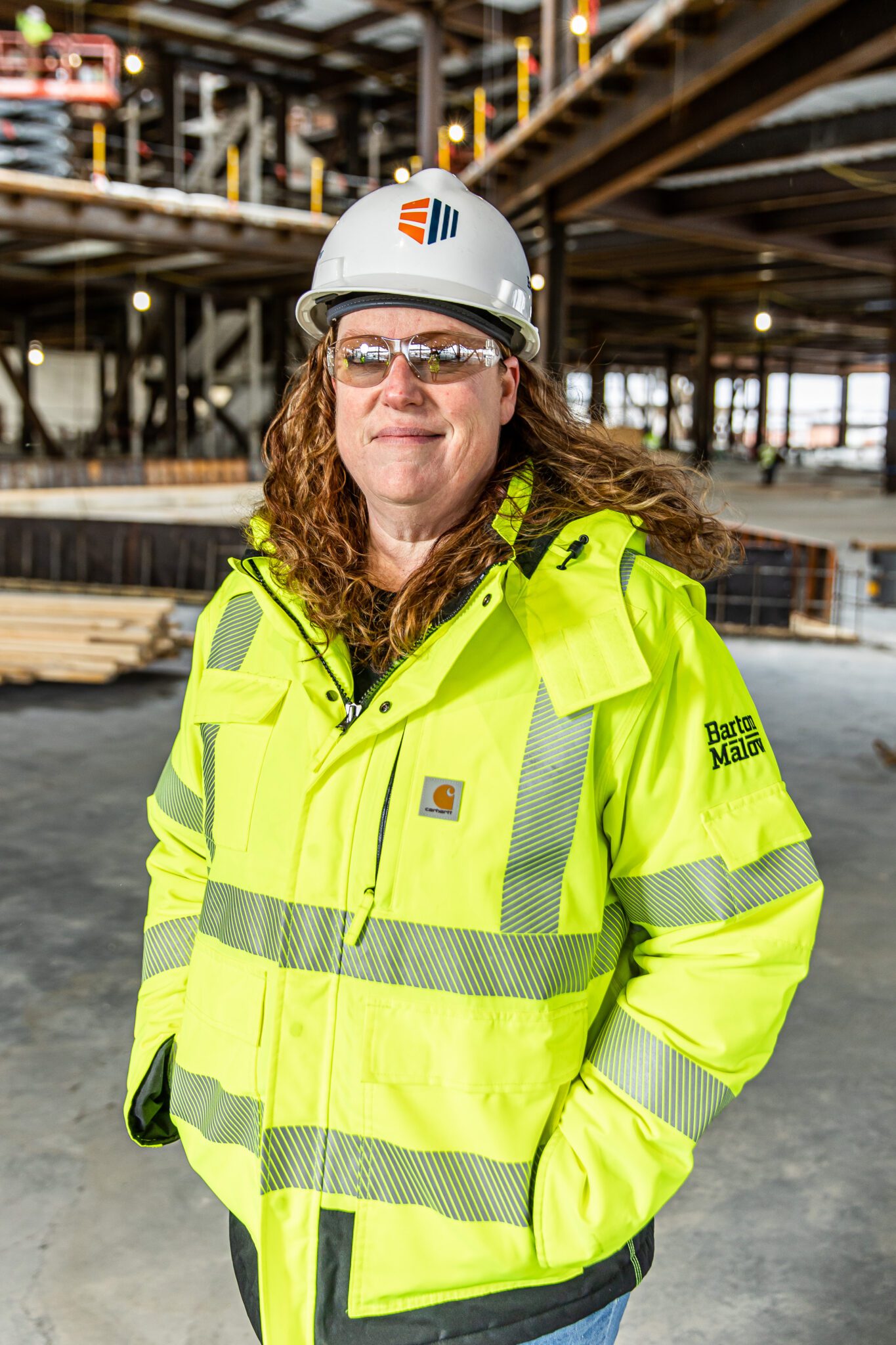 Jennifer was introduced to the construction industry when she worked part-time for a flooring subcontractor in high school, answering phones and typing letters. She eventually learned the accounting side of the business and, since construction was all she had ever known, decided to stick with the industry.
"You could say I fell into it, I suppose. But it's the best industry," she says. "I feel very lucky that I was in the right place at the right time and had wonderful mentors early in my career to show me how great it is. I can be an accountant in a more laid-back way. Typical accountants don't get to wear jeans and work boots to work and sit in a muddy construction trailer!"
Having now spent over 25 years in the industry, Jennifer is glad to see some of the changes happening in construction.
"It's nice to see large projects like this one have more and more women involved," she says. "We're the proof! With a project this size, the team becomes so big, we are like a small company! I'm proud to be on it."
She offers this advice for other women looking to get into the industry, "Be bold and hold your head high. For women specifically handling the field accounting side on projects: Make sure you are getting out in the field. Go to the trailers. Walk the projects. Put on a hard hat and work boots and see what's being built on your project. Absorbing all the information we can learn from our Project Managers, Superintendents, and Project Engineers on site will only make us better at crunching numbers."
Anissa Sanchez, Cost Analyst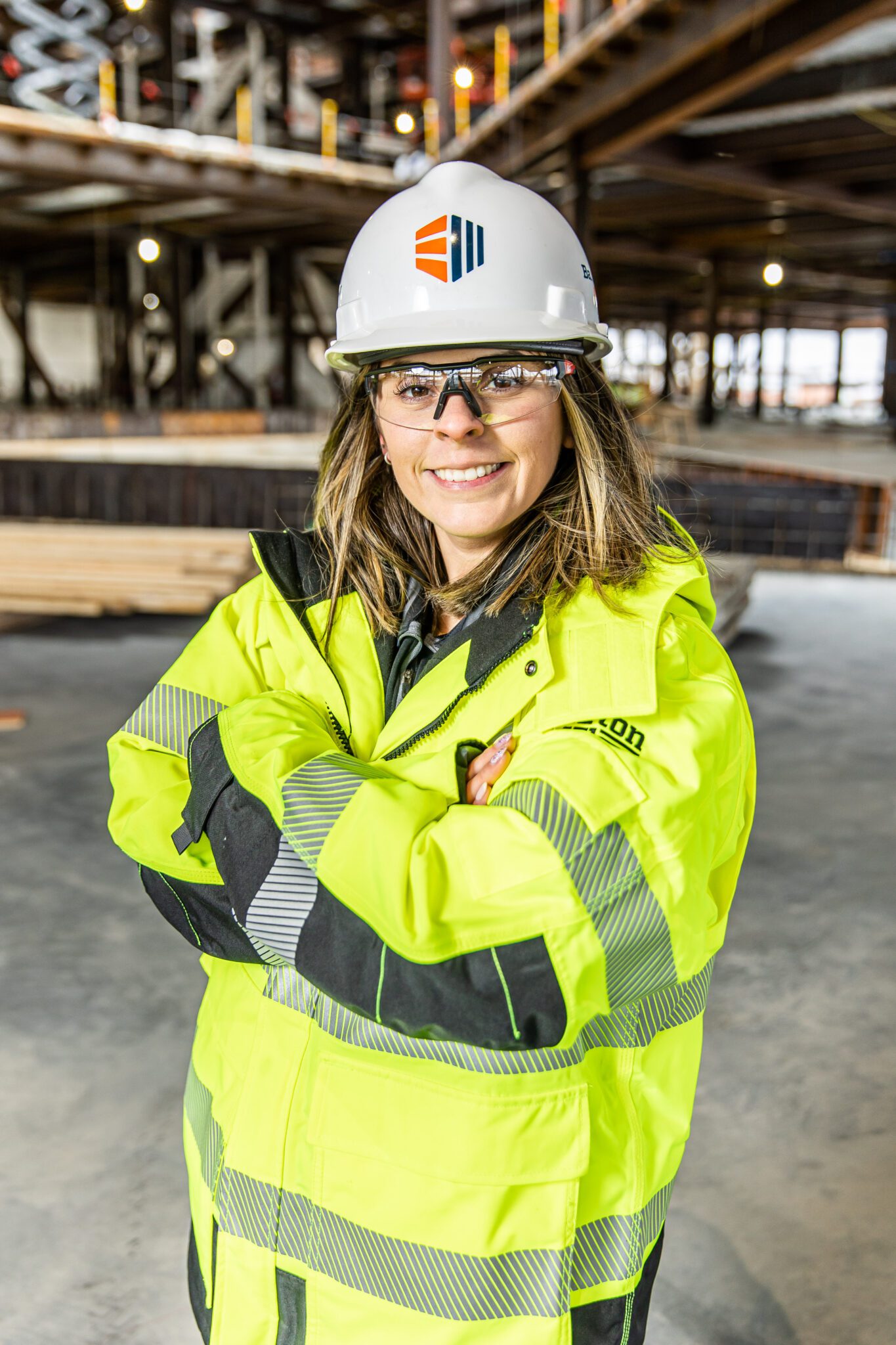 As someone with accounting and finance degrees, Anissa never really thought about a career in the construction industry, but she had close family friends who worked at Barton Malow and who loved their jobs and the culture.
"We got to talking one day, and I asked what kind of positions they have for someone in accounting," she says. "There happened to be a job opening for a Project Accountant, so I applied! I am so happy I stumbled across this amazing industry. Three years and counting!"
In those three short years, Anissa is most proud of the growth she's seen in her career, going from working on some of the smaller jobs to now working on the Ford central campus building project.
"All of the knowledge I have gained the past three years brought me to work on this incredible project," she says. "It has been a great experience, and it's really awesome to have women in multiple different roles on this project; the most women I have worked with on prior projects is two! It's so important to have an array of perspectives to help the team come up with well-rounded answers and solutions to problems."
To women interested in construction, she says, "Do it! The construction industry is forever evolving and there will always be demand for building things. Plus, you get to work on some pretty amazing jobs and meet some great people."
Deenna McNicholas, Senior Scheduling Manager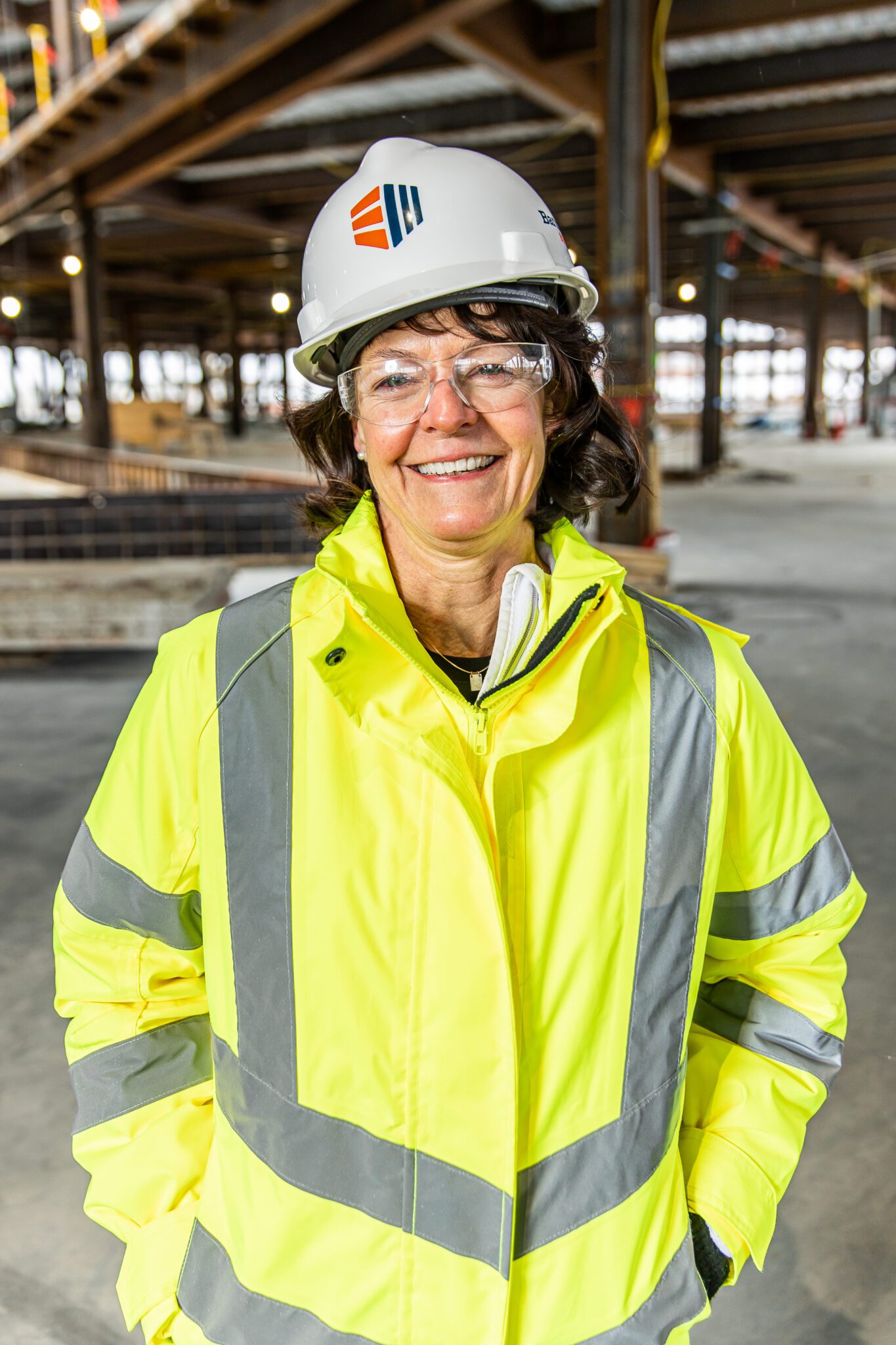 Driving in all the way from Indiana, Deenna McNicholas brings with her over 25 years of experience in various construction roles that all started with a love for working outdoors.
"I worked on my grandparents farm growing up and loved working outdoors in all types of weather and seeing the fruits of hard labor," she says. "There was an Engineering 101 class at Purdue that introduced you to different types of engineering. When the civil engineer speaker came, I was hooked."
From there, Deenna started in the field as an assistant superintendent for a deep foundation contractor, then moved into geotechnical engineering and design, and finally got into construction scheduling. When you ask her what she's most proud of, though, she points to her family.
"The accomplishment I'm most proud of is being a wife and mother to a large family with eight children," she says.
But it's clear that her example and hard work haven't just stayed with her.
"My daughters have all went on to careers that are male-dominant," she says proudly. "Women bring a different strength and outlook to the team, regardless of the industry."
Her advice for other women? She highly recommends finding a mentor early on in your career.
Marlana Prime, Ironworker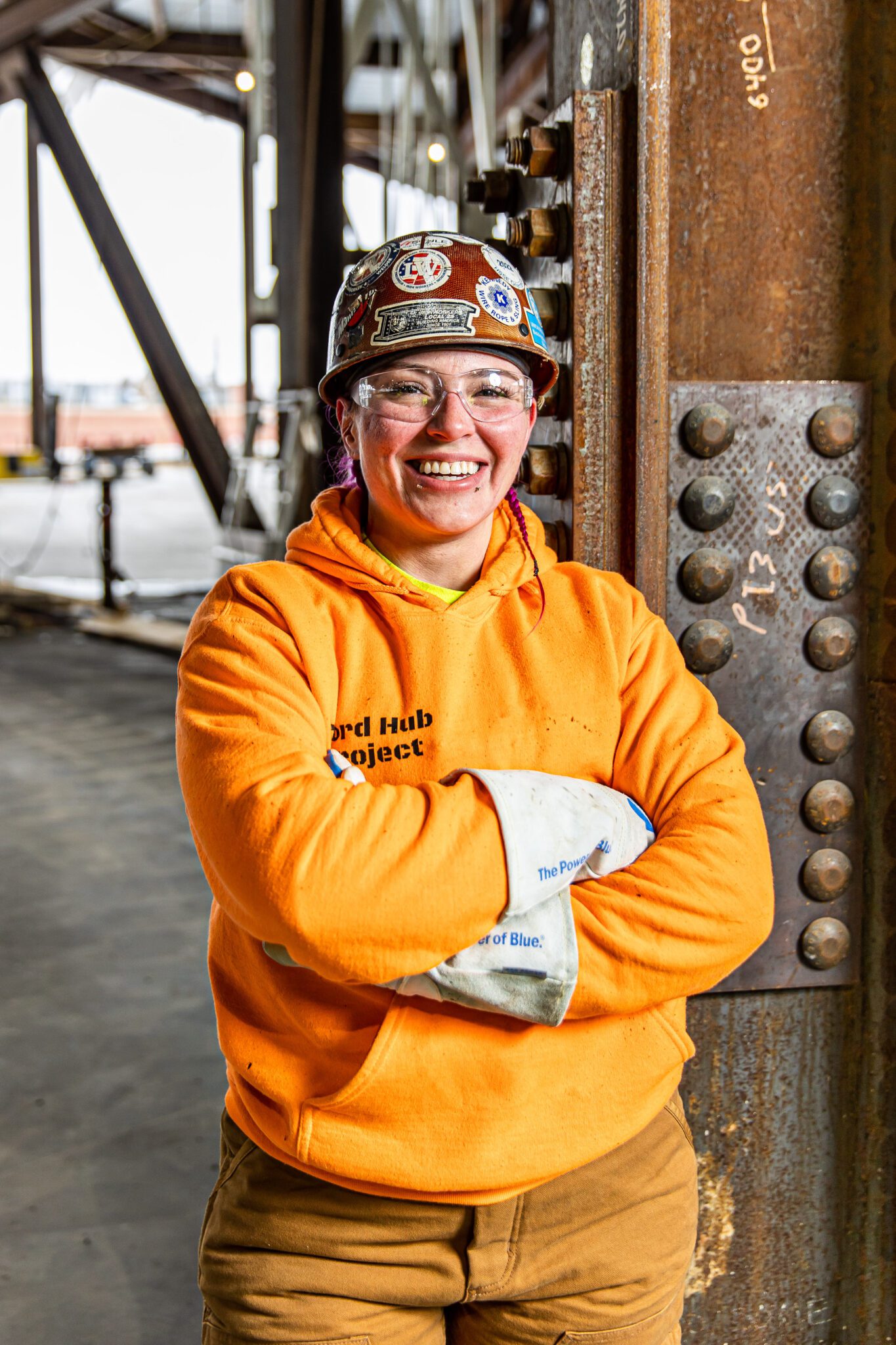 After essentially growing up on site, Marlana's bond with her late father led her to stay in the construction field and pick up welding in high school. After working in several fabrication shops and a short stint driving semi-trucks, Marlana found her way into the Ironworkers Local 25 union and, ever since, has tackled every obstacle they've thrown at her.
"It's kind of an ego killer out here, because you're not going to get a perfect weld, and the processes out here are way different," she says, speaking to the difference between working in a fab shop and being out on a jobsite. "Your work shows. That's a big deal. If you're not going to do a good job, they'll eat you alive out here."
But the demands of the profession certainly haven't dulled the spark she has for welding.
"I'm so passionate about welding. Nobody would understand unless you're a welder," she says. "But also, being together with these guys – we're a new generation coming up. Some of the journeymen get a little iffy when there's a female around, but the guys my age that have all come out of school, they all cheer me on and they try and help me – even when I don't need their help."
Marlana has helped start a women's ironworker council, which gathers on the last Monday of the month to meet and write down any issues that are coming about in the workplace that need to be addressed. It's a mix of seasoned journeywomen and newer apprentices, and in addition to just meeting, they've also started spending more time together socially.
"I paid for an Airbnb and we had a sleepover. We plan to go bowling," she says. "And if we get rained out here, we all go to the school and there will be like six or seven of us all at the school during a rain day. We're so separated most of the time that when another female comes onto a project and we run across each other, she would give me dirty looks – it's always a competition. As ironworkers, we're supposed to be the best, that's what we have in our minds. The men don't act like that to each other. I just want to break that chain."
Even though this has only been her first project with Barton Malow, she's still striving to be the best. Just a few weeks ago, she happily reported that she successfully did a column splice with 311 inner shield flux core wire, in simpler terms: it was a weld that connected some really big, thick columns and something she's not sure if another female apprentice has done.
"Someday, there's going to be a woman who's going to be better than me," she says. "And she'll be able to come in here and help me out."
But in the meantime, Marlana will be working to pave the way.
Bailey Delucia, Senior Project Engineer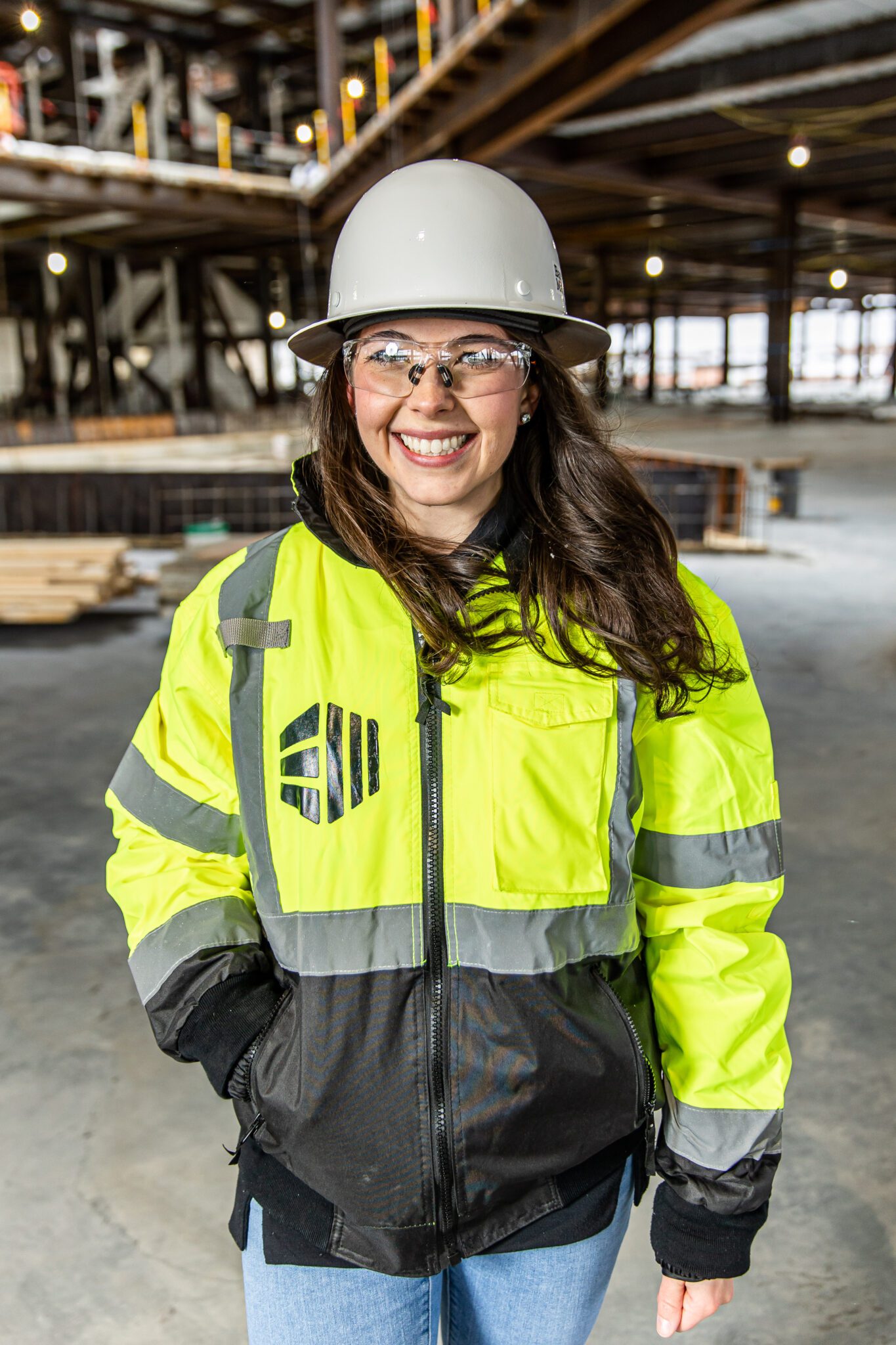 Growing up in Michigan and close to the Motor City, Bailey decided early on that a career in the automotive industry wasn't for her, even after deciding to pursue an engineering degree in college.
"I came across Barton Malow at a career fair, and I was intrigued," she says. "After speaking with the reps, they convinced me to apply for an internship over the summer. After the first week, I knew I had found the career for me."
After graduation, Bailey came on full-time at Barton Malow as a Project Engineer and has even had the chance to work on projects on the campus of her alma mater, Michigan State University. When asked what it is that she loves most about her career, she answers, "Learning something new every single day. My job is challenging but so rewarding. I love working with so many different people from so many trades and such different backgrounds."
And it's these varying backgrounds that she thinks are really benefitting her current project.
"When I first started my career, I was the only woman on my jobsite and I didn't think much of it," she says. "On the job I'm currently on, we have several women and it is a nice change. I feel the influx of women softens the tone of the atmosphere, and that, in turn, helps elevate productivity. I believe there is more innovative thinking when you combine the intellect of males and females – having opinions from every angle is always a benefit."
After spending nearly four years with Barton Malow and being promoted to a Senior Project Engineer, Bailey has this to say for women thinking about getting into construction: "Do it!! It may seem like it's a male-dominated industry, but that is changing rapidly and the opportunities for women are more prevalent now than they used to be and will just keep growing."
"When choosing a career, my top priority was to make sure I was not sitting behind a desk doing the same thing day in and day out," she explains further. "I wanted to be challenged daily. A career in construction has checked all those boxes for me and so much more."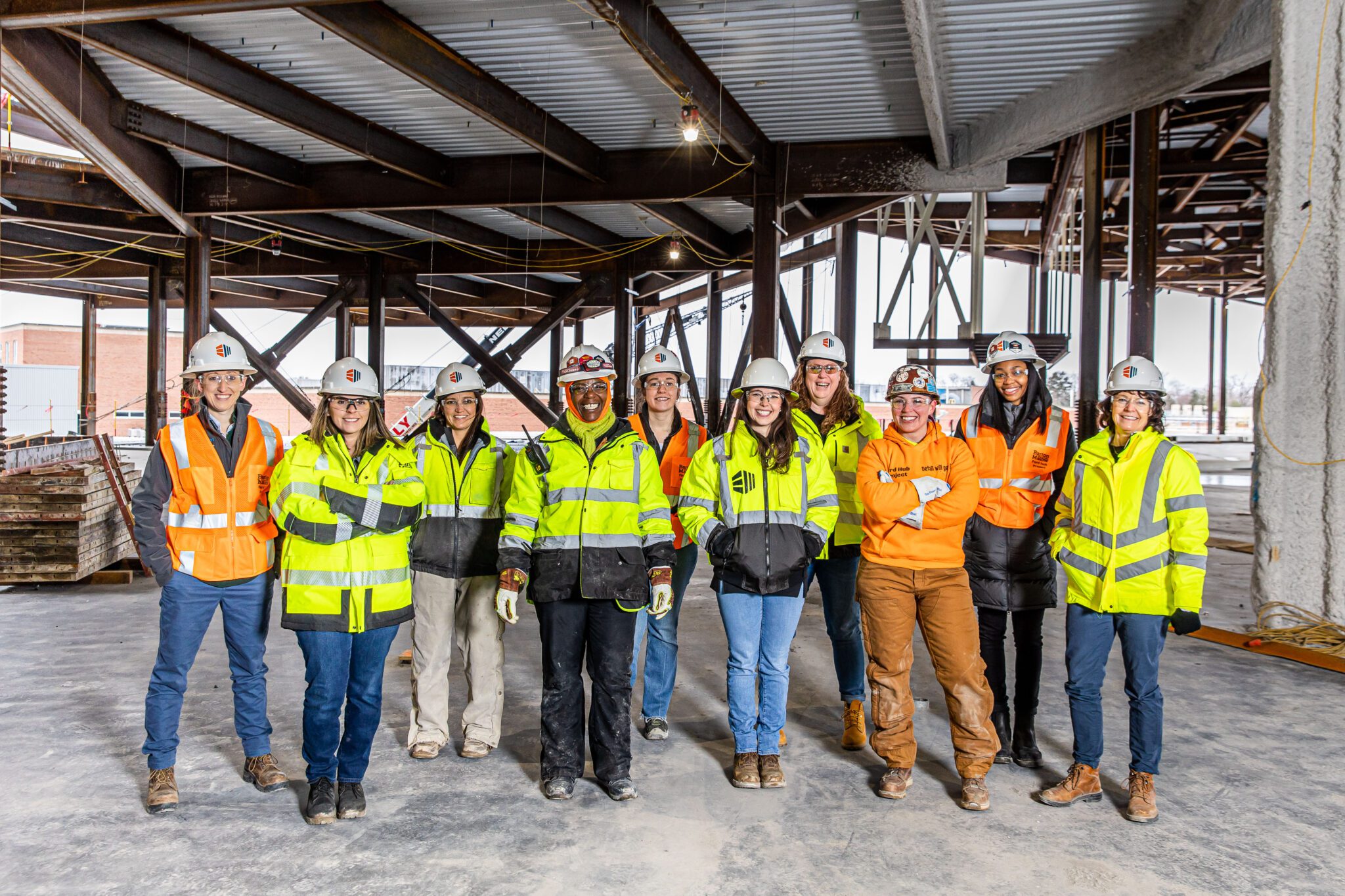 For more information about the annual Women in Construction Week, you can visit wicweek.org.
If you're interested in a career at Barton Malow, visit our careers page.