Proudly ranked as a top business school by World Report and U.S. News, Vanderbilt University's Owen Graduate School of Management recently celebrated a successful expansion and renovation with Barton Malow acting as construction manager. The completed project, which can now better accommodate the growing Vanderbilt and Nashville business communities, includes a new entrance at street level, a new café, flexible classrooms, collaboration spaces for students, and a multipurpose room that can accommodate the entire MBA student body. The classrooms on the second floor and offices on the third floor have been greatly expanded thanks to the building extension. The extension also allows for the creation of a fourth floor on the addition, which features an outside deck, an event space, and two classrooms. Learn more about each space in the virtual tour.
Nashville Construction Manager
At the time Barton Malow broke ground on the Vanderbilt Owen Graduate School of Management it was our biggest project within Nashville city limits, helping us to solidify our status as a significant Nashville construction manager. This project was not without it's challenges- the building remained occupied throughout the duration of construction and imposed quiet hours meant demolition was confined to a short daily window. Despite the time constraints and busy campus activity, the Barton Malow Team was able to deliver a beautiful building that Vanderbilt students and faculty will enjoy for years to come. This project also ensures that the Owen Graduate School of Management will remain among the top business schools in the United States.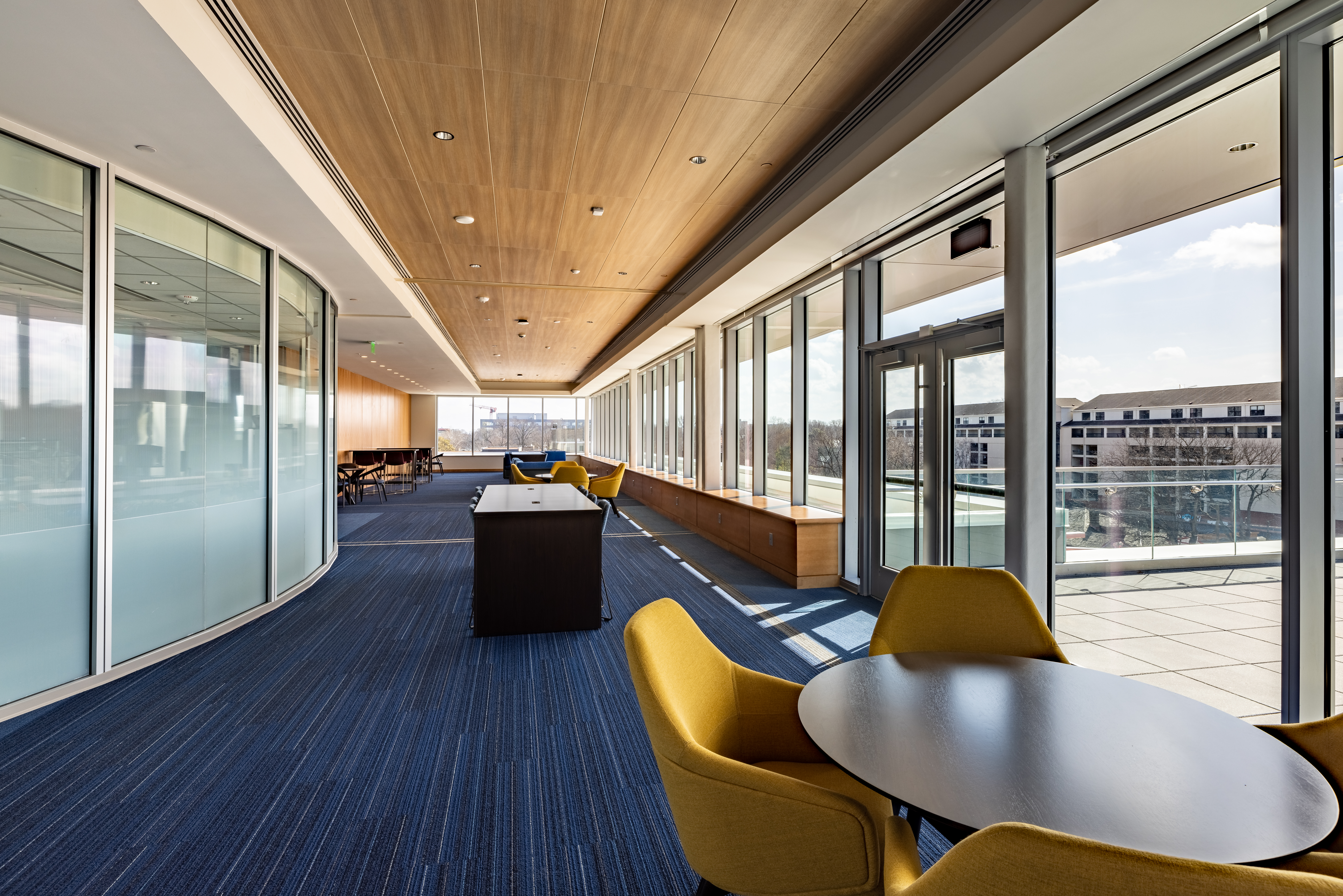 This building plays a large role within the Vanderbilt campus, as well as the greater Nashville environment since it sits alongside a major road that runs through the heart of the city. Barton Malow is proud to have served as the construction manager for this project and we will continue to expand our presence in Nashville and the surrounding area.
Beauty meets Efficiency
Upon entering the renovated space, most first impressions are ones of warmth and light. A curved wall of windows, through which you can see a flowering courtyard, allow considerable light to permeate the Atrium and illuminate the rich wood finishes and flowing lines.  
In addition to being pleasing to the eye, the renovated space is designed to be an efficient and constructive workspace; acoustic paneling runs throughout the building, perforated metal ceilings match the woodgrain, and a chilled-beam mechanical system allows air to be recycled, achieving higher efficiencies for energy use throughout the building. The chilled-beam system will help mitigate utility cost increases typically accompanying a building expansion of this magnitude. Altogether OGSM's interior is quite impressive and represents the perfect balance of beauty and efficiency.