To deliver the preeminent student-athlete experience in college athletics, Barton Malow's Nashville sports construction team will transform Vanderbilt University's athletics facilities and set the benchmark for collegiate athletic excellence.
The "Vandy United" plan, the most significant undertaking of its kind in school history, includes the following projects:
New construction of a basketball practice facility
New construction of an indoor football practice facility
Renovation and addition to McGugin Center to improve existing Olympic sports space and to create a Sports Performance Facility
New construction of a Football Operations Facility located in the South Endzone of the existing football stadium
New construction of a tennis facility
Enhancements to Hawkins Field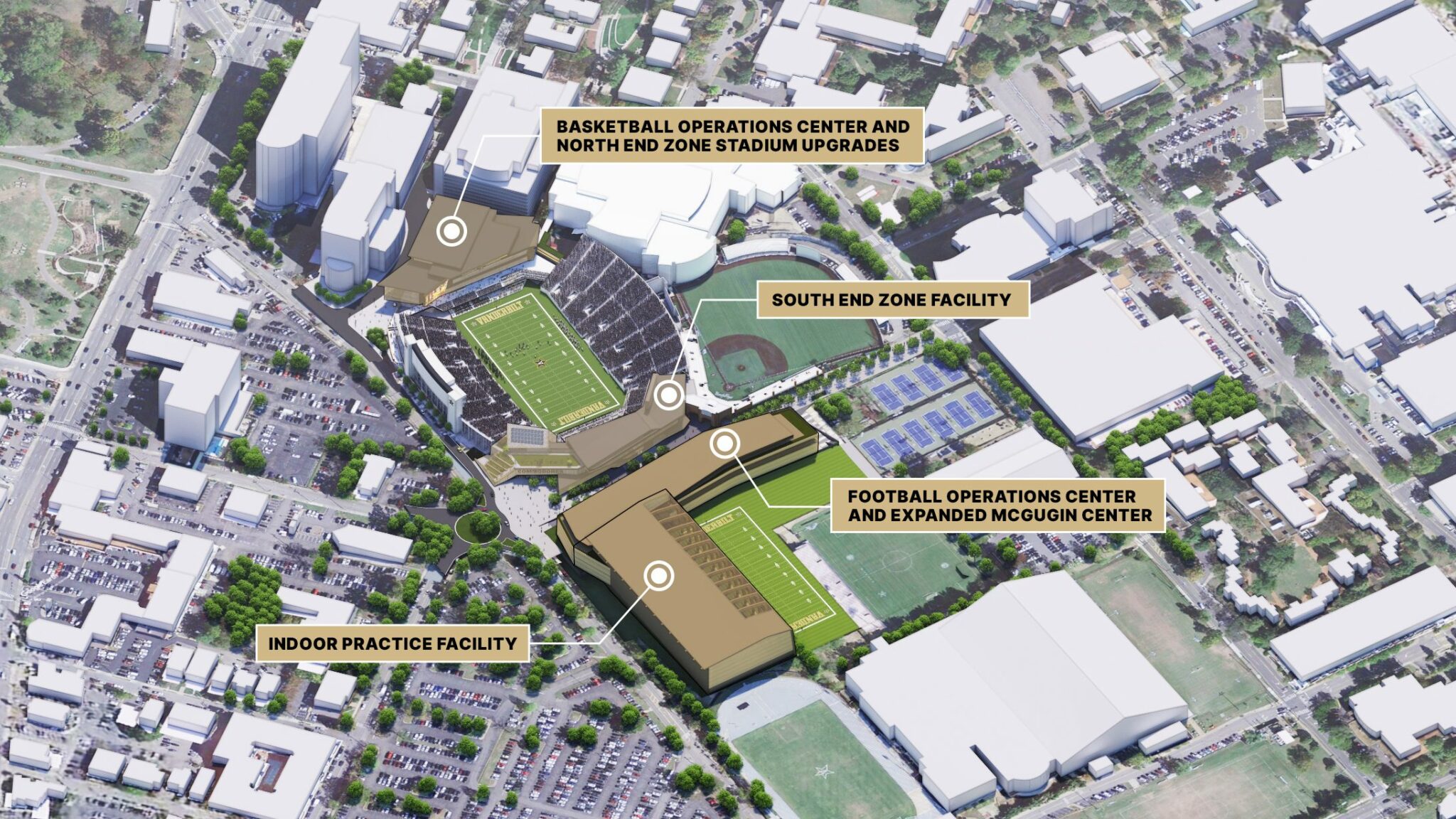 Building the Vanderbilt Way
The north end zone of ​​Vanderbilt Stadium will house the basketball operations building, including practice courts, locker rooms, offices, and a specific weight room for the men's and women's basketball programs. The south end zone will receive new seating and amenities, hospitality areas, and fresh food and beverage options.
The central home for athletics, McGugin Center, will also undergo a makeover with new training rooms, a sports medicine center, and a sports performance center. In addition to the McGugin Center, a football operations center and a brand-new indoor practice facility will be built alongside Natchez Trace next to the existing outdoor training facilities.
Additional focus areas include upgrades to the Currey Tennis Center, the track and field complex, and most recently, enhancements to Hawkins Field. Home of Vanderbilt baseball and the cornerstone of Vanderbilt's Dare to Grow phase, the enhancements will include premium seating, expanded capacity, and greater support to the game day experience.
Drone Dashboard
To catch the latest aerial views, check out the Drone Dashboard of the project site our Virtual Design + Construction (VDC) team put together. Simply click the orange 360 images below.
Site Overview Animation
Renderings
Progress Photos
Site Logistics
Contact
Questions or concerns? Please contact:
Chris Burns
Project Executive, Barton Malow
p 574.309.4439
e chris.burns@bartonmalow.com
See more of our Nashville sports construction portfolio and learn more about our sports and entertainment projects here.