The University of Richmond's (UR) new Well-Being Center and Queally Athletics Center serve as a central location for all campus healthcare, well-being education, and nutrition services, as well as a dedicated practice facility for the Spiders basketball teams. This renovated and expanded facility was constructed on UR's campus as a connection point between Millhiser Gymnasium and the Weinstein Center for Recreation.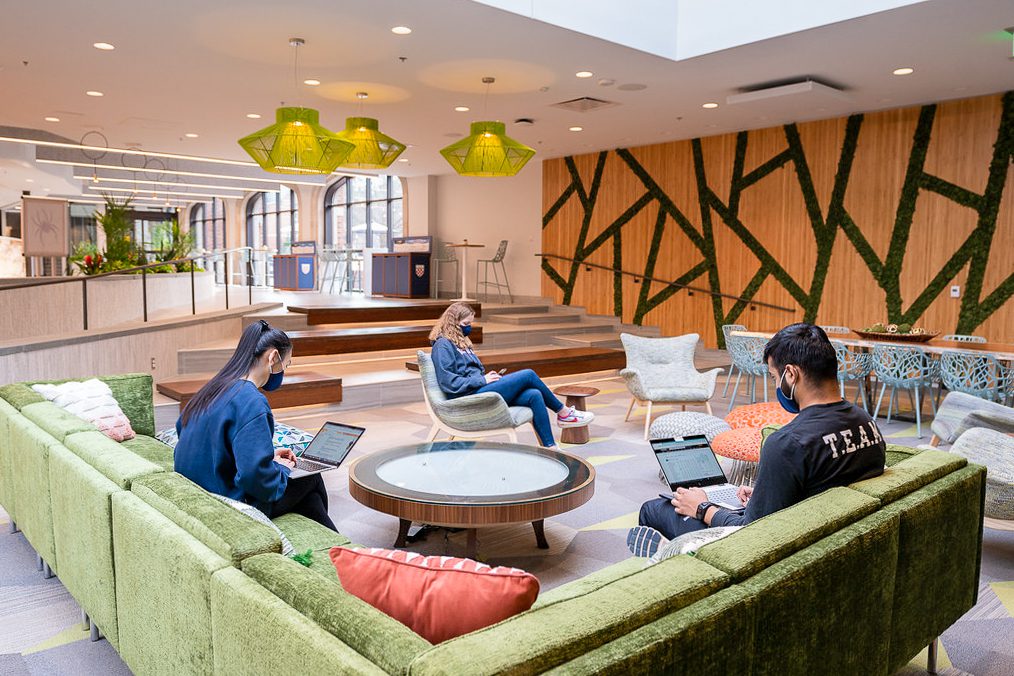 With direct access to the Weinstein Center, the new Well-Being Center houses the Student Health Center, Counseling and Psychological Services (CAPS), health promotion and nutrition services, and student gathering spaces. Next door is the new Queally Athletics Center – a state-of-the-art home for training and performance that is taking the men's and women's basketball programs to the next level. The basketball practice facility includes a practice gym, sports medicine space with hydrotherapy, a strength/conditioning area, locker rooms, and team rooms. A two-story grand entry hall overlooking the practice court – Spider Hall – celebrates UR Athletics.
The project also included renovations to the old Millhiser Gymnasium for coaches' offices, an academic center for student-athletes, recruitment spaces, and a video-viewing room.
Minimizing Disruptions
The site was located in a critical area of campus, requiring common paths of travel to be maintained while keeping the focus on safely separating the construction zone from the operational campus. Maintaining both general access and life safety egress for each of the surrounding occupied facilities was of utmost importance, along with minimizing disruptions associated with our tie-ins. Adjacent to three active athletics facilities, extensive signage, constant coordination with athletics, and flexibility was required for game day activities. The site was also directly adjacent to student-occupied residence halls, which meant construction noise was another major concern.
Barton Malow worked closely with the University of Richmond to establish safe pathways around the site and modify the construction schedule to avoid noisy work during early hours and periods of study/final exams. As a result, complaints about noise and disruption of travel pathways were negligible, especially considering the size and duration of the project.
Click here to take a 360 video tour of the Well-Being Center. See more of our higher education construction portfolio in Virginia and beyond.