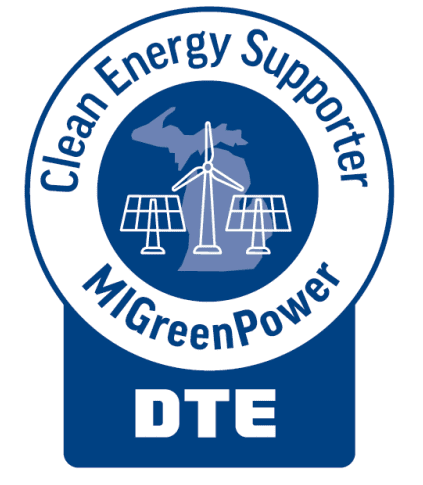 During last year's National Clean Energy Week, Barton Malow announced its participation in the DTE Energy MIGreenPower initiative as part of our ongoing commitment to sustainability efforts and clean energy innovation. Beginning the first of this year, we have increased our participation in this initiative to run our entire Southfield headquarters office on 100% Michigan-made wind and solar power.
The 110,000-SF, four-story corporate headquarters building was built by our own team in 2001 with sustainability and green building in mind. In addition to now being powered by 100% clean energy, the building also features a Wildlife Habitat Council-certified rain garden, instant hot water heaters, filters on rooftop air handling units, water fill-up stations, light/occupancy sensors in addition to the energy efficient basics (LED lights, waterless toilets, water-efficient fixtures, etc).
This change will have the greenhouse gas equivalent of taking 244 cars off the road for a year and avoiding more than 1,300 metric tons of CO2. We're excited to help support DTE in its mission to invest in renewable energy infrastructure and join the likes of over 200 Michigan companies and organizations, including General Motors, Ford, the University of Michigan, and the Detroit Zoo, as well as over 22,000 residential DTE customers who are supporting the program.
As part of our family-wide commitment to sustainability, we are encouraging all who are DTE electric customers to also enroll in the program. Most residential customers are already receiving 12.5% of their energy from renewable energy sources and can increase their participation in the program by 5% increments.
Those who enroll in the program using the referral code "BARTONMALOW" will help us understand the overall impact of the Barton Malow Family's participation in the program.
To enroll in the program or find more information, like your participation's environmental impact and cost, visit the DTE MIGreenPower website.